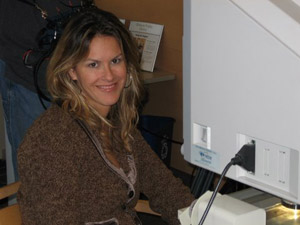 We can all be detectives.
The first step is quite simple.  I always start an investigation at my computer assembling a list of the facts.  I write down everything I know about the piece including a description, condition, folklore, rumors, hearesy, hunches, etc.
This information becomes my checklist and I can add to it or check off all the information that I have gathered.
I start a journal; record all my work, dates, notes, phone numbers, etc.
I start my evaluation of the object in question. You do not need to be an expert to do this. Consider the size, material, style and condition. Look for evidence of attribution, such as a signature, stamp, copyright or makers markings.
The Internet is a great source for your initial research but I am a firm believer that real investigators must go the source to get the information.
With that said, the internet can save you a lot of time at libraries and historical societies as you can be more focused and prepared before you get there. Researching at these places is tedious and a lot of prep work can be done at home, before you go.
You need primary sources to help you find out what you have or any information about the time period of the piece.  Libraries and historical societies are excellent resources and extremely helpful.
But be careful, libraries and archives may appear the same, they have important differences.
A library is a wonderful place for access to books, the Internet, and other forms of research, but sometimes, they only have secondary information.  This is where you can look for bibliographies and footnotes for clues, and then follow the information back to primary sources.
You will find that most of the time these primary sources are in an archive collection.  These collections are almost always open to the public for research, although you may have to call for an appointment.
I find that each archive has their own rules and regulations on how they want you to handle their objects, especially the use of gloves.
I have noticed that there is no industry standard for gloves and it is important to be sensitive to each archive's policy about handling the material.
When you get to the archive, look at everything in the collection including, films, old newspapers, magazines, old objects, letters or anything printed that can help your investigation.
Search for information that can be associated with your piece and the time period.
Try and find an article or advertisement about your object, a photograph or even a patent.
Don't overlook anything; sometimes the best information is in places you often look last, (ie court papers, legal filings, maps, diaries.)
Also, talk to the archivist and historians on site.  They are often experts and may have some great advice regarding your research.
A word of advice, if you are researching family folklore or hearesy about the object (my great grandmother swore that Robert E Lee gave her his gold pin) do not mix that material with your other research unless, or when, you verify the information with a primary resource. In other words, you need hard evidence and should see the facts in writing by a true source before you confirm it's validity.
I find that libraries and archives often lead me to experts, authors, collectors and other enthusiast that are willing to share their thoughts with me.
To me, this is one of the best parts of my research as I enjoy to talking to people with the same passions.  People love to share their knowledge and I try to talk to as many people as I can.
Another great resource is the employees at auction houses and museums.  These employees are specialist in their fields and are filled with knowledge.
Almost every auction house is open to the public and public viewings are a great time to view comparable objects, and to talk to the auction experts who are on hand to help.  Again, I keep a log of all my conversations and leads to primary sources.
At the end of the day double check your journal and notes and cross-examine your check list.
Most importantly, do not give up and have fun learning!   But if you need help, you can always contact us at History Detectives!